January 4th, 2022
This is excerpts from a sort story that I wrote. I am posting here for my friends and family to access. Thank you!

Unspoken. The Language of Animals
Book 1
What the Arabian Saw
This is a book of complete fiction. All the characters, places and circumstances are of the author's imagination or used completely fictitiously. There is no reference to any persons living or dead (or otherwise).


They only call me out of shear desperation. Please, law enforcement has a terrible time when they call in a psychic. The skepticism runs wild, the press has a field day, the families of the victim are in complete shock and utter disbelief and you can count on smirks and eye rolling the minute you walk in the door. That would be a warm reception for me. Yes, you see I am psychic however I have a specialty. My specialty is witnesses to crime. Why would a crime witness need a psychic you may ask? My witnesses have no words, their language in unwritten and ancient. My witnesses rely on instinct and reaction for survival. My witnesses do not know color, do not read the time, and cannot tell you how tall or how much someone weighed. My witnesses are animals. Yes, you guessed it, I am a pet psychic. Did I just detect a little eye rolling?

Part One

The mail was building up in the box. Newspapers too. That was the first clue that something was wrong. The horses were running to the fence every time someone would show up, a very good indication that they were hungry. Finally the mail lady, who is known for being a little more than nosey, called the police or the sheriff as in this case.
As the officers unlatched and pulled through the gate nothing seemed to be out of place, although again the horses were whining and acting aggressive to each other.
The doors were unlocked, but that is common out in the rural areas. People feel if someone were to break in no one would hear them break a window as the properties are spread apart. Might as well leave the door open then have the windows smashed in and have to replace that too. Besides, most houses out here were armed, at the very least with a 12 gauge shotgun.

Inside the house everything seemed in its place. There was a coffee cup and a plate in the sink but everything else was as neat as a pin. Edgar was a great house keeper. Outside Edgar's pickup truck was parked with the keys in it. He always left the keys in it so he wouldn't lose them. Not even the most desperate carjacker would take Edgar's truck. It was literally held together with bailing wire and duct tape.



January 4th, 2022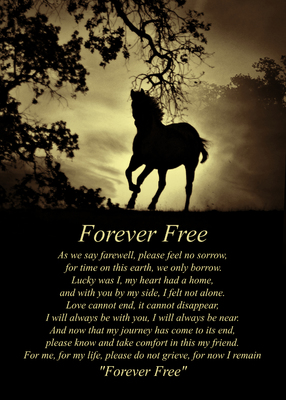 Writing and Imagery

For me, there is an emotion that both imagery and writing can trigger and that can be intensified by combining the two.

Pictures are visual. And although writing is too, when you read it you feel it by listening. At least that is how it works in my brain.

When you combine the two ways of touching the senses, you can guide your viewer to a more defined angle for looking at your work.

A picture is worth 1000 words, so it is said but I believe it is worth much more. And herein may lie the dilemma on how an artwork is viewed. However, when you couple your image with text, you can steer your viewer's perception into a more focused way of viewing your image or art allowing you to define more of what they see.

For example, the image "Untamed" (I cannot take credit for the name of this image. It is used by Shadow Run Winery, in the Paso Robles wine region, as a label for a wonderful wine that they make. It's a superb wine, especially if you are a Grenache fan like me. Here's the link or simply click on the "More Information" button. https://www.shadowrunvineyards.com/wine/2017-untamed )

As you can see by the use on the wine label, and the word "Untamed", it gives a free, wild, uninhibited feel to the image.

When used as a tribute or memorial piece, with my poem "Forever Free" the words give an unworldly, celestial, and ethereal concept to the image.

Though both are quite defined they are worlds apart from each other as far as the mood goes. And this solely is due to the words or text attached to the image. Just one word, or a whole poem can change the atmosphere.

In conclusion, when listing an artwork here on Fine Art America, or any other place, maybe think about writing the description through the lens you would like the artwork to be viewed. Narrow the viewer's concept to "see" it through your intent.
June 16th, 2021
It can be daunting or hard to show or share an artwork, photo, writing, or anything that you have created. To go on stage, to speak in front of a crowd. To open an business. To follow your passion and put it out in public. It's a very personal thing and you open that side of yourself up to the unknown. It's a risk that it will not be received well, and you know, that is really ok. Art/creative matter and truly most everything is subjective. What speaks to one does not speak or touch all. The fact that it speaks to you, and you have the courage to share what you have created, or have a passion for, regardless of the outcome, makes you truly a champ.

To be a critic is easy, to put yourself out there for criticism, is brave. Take it, don't take it, (the criticism), have it received well or have it fall flat on it's face, it doesn't matter. You, put yourself in the arena. That is what counts. So many never do.